The Wedding Face Mask
As couples continue to plan their wedding day during the pandemic, wedding masks have become an integral part of celebrations for the foreseeable future. Both the Centers for Disease Control and Prevention and World Health Organization recommend using a face mask at indoor and outdoor gatherings to help stop the spread of COVID-19. Wearing a face mask is a simple way to protect those around you, and it's a small way to do your part in helping stop the spread. If you are hosting or attending a wedding in 2020, plan to wear a face mask when near others. Masks have come a long way in the last few months; they are turning into the statement accessory and are quite fashionable.
Have Fun With Your Masks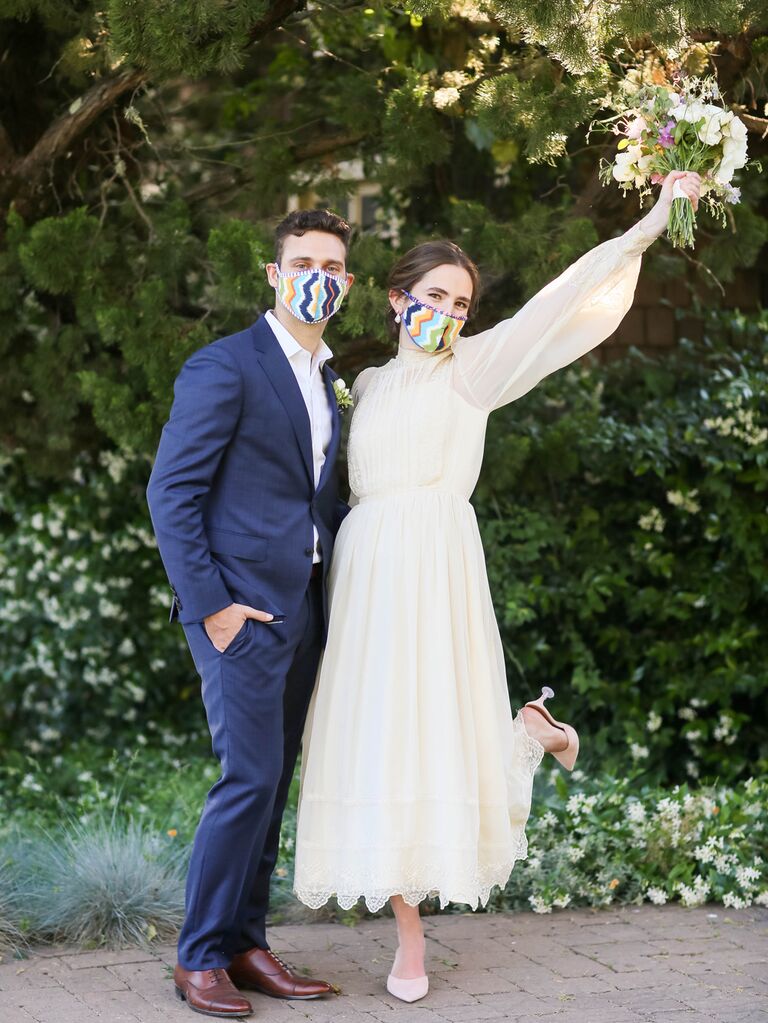 Matchy Matchy
Wedding masks don't have to be boring or detract from wedding attire. By getting styles that matched the dress and tuxedo, these masks made their wedding day look unforgettable. Combine your masks with current tuxedo trends of blues or teals for a bright pop of color.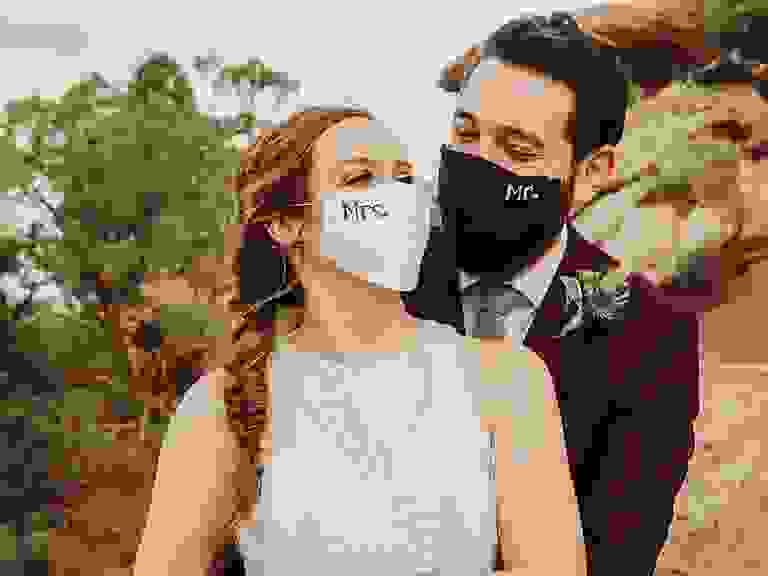 Make It Formal
Masks are easy to dress up for a more refined wedding dress accessory. If you start with a satin mask and apply crystal beading, the mask becomes more like a jewelry accessory. 
Get Creative
For those couples that embrace their unique style, they can style their masks accordingly. Plain or brightly colored masks in exciting colors can be embellished with everything from fringe, lace, to sequins at home. Michaels' fabric department has everything you need to create a one of a kind mask for your special day.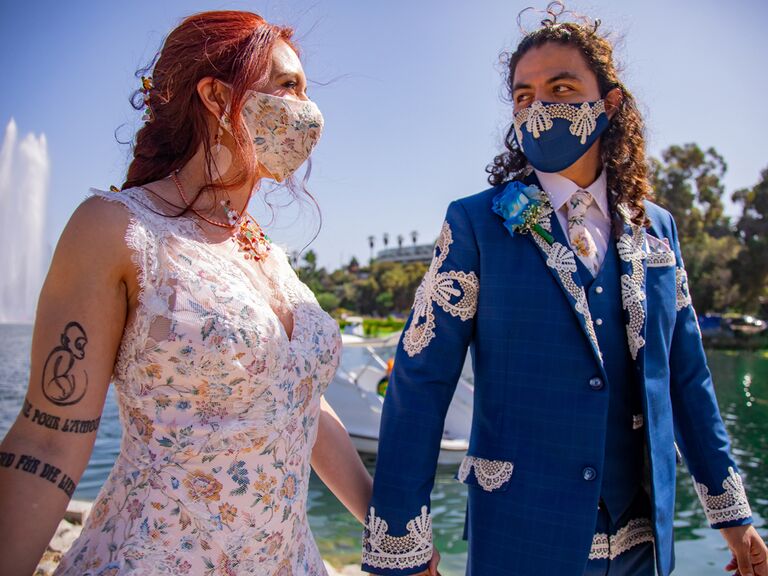 MOYOF
A fun way to take give your mask a dose of personalization is to get a MOYOF, a mask of your own face. These are growing in popularity as people miss seeing everyone's mug under masks. You start with a good picture of your face and then send it to the many printers popping up to make them for you and your guests. It would also be fun to mix the masks up and wear someone else's face for the day. Quality differs between vendors so look for a high-quality printer to make your masks. They can be found on Etsy, check local printers and online printing companies for a good MOYOF.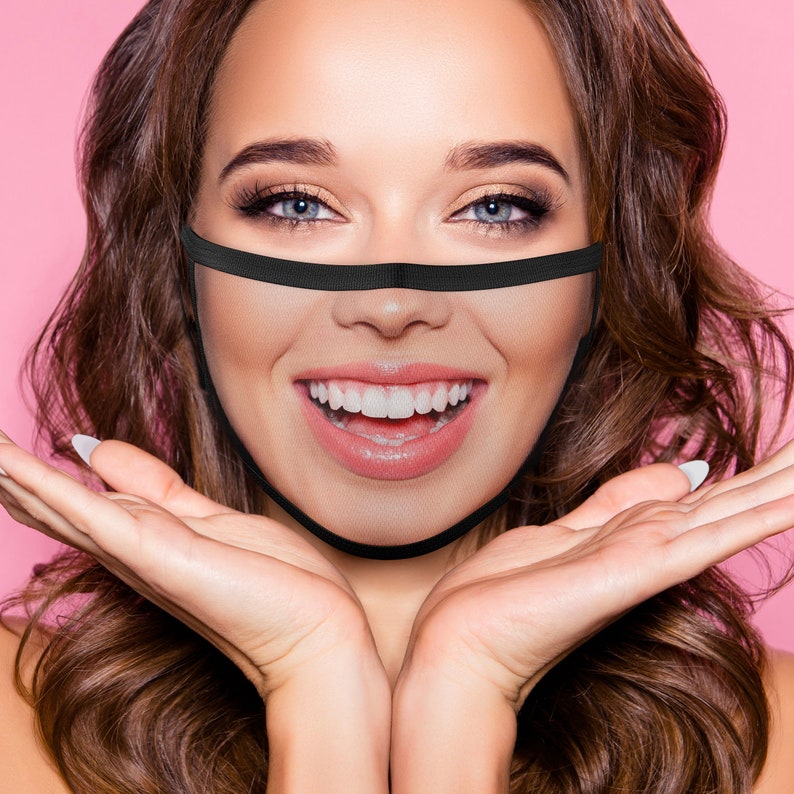 Personalize It
The wedding parties can have fun with masks as well. Personalized masks are great gift ideas for the wedding party. Ladies may also match their wedding dresses to their mask for an upscale look.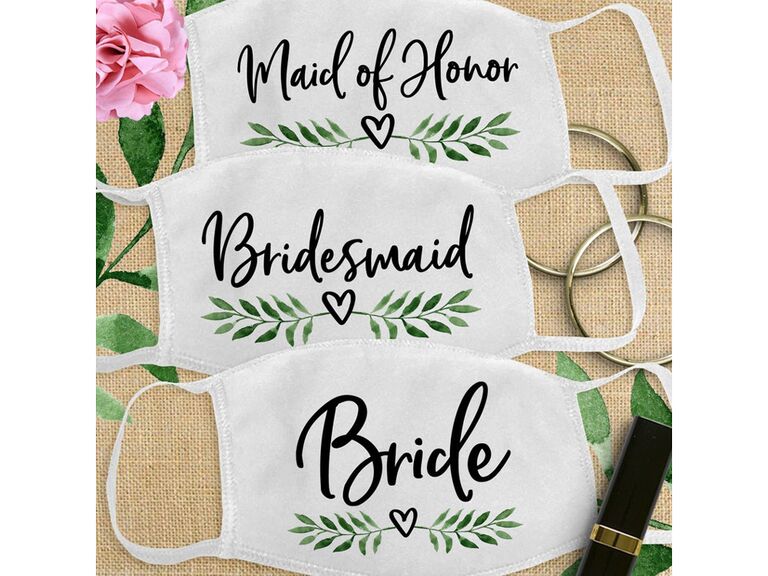 Hidden River Events has you covered for custom printed face coverings. They have a vendor, James+Hudson, they trust to make the face coverings for your event.  They also donate a portion of their proceeds to THRIVE which provides assistance to women and children survivors of domestic violence.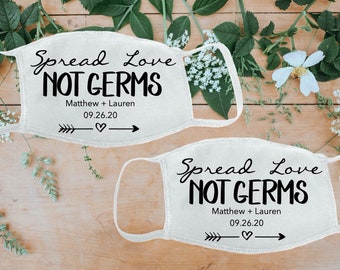 We Specialize in All-Inclusive
At first, we thought all-inclusive meant just having all the infrastructure ready to go for the couple, so what looks like such a simply beautiful, largely outdoor wedding could be as clean and simple as the lines of the tent.  There should be no hassles about getting in all the infrastructure and having it ready for your wedding. We did not want to witness a rental truck showing up at the last minute and a mom or bridesmaid, or the couple themselves, setting up chairs and tables–even mowing the yard–on the morning of the wedding.  These were all things Jeanne witnessed repeatedly over the years. No wonder people were exhausted before their wedding even began…